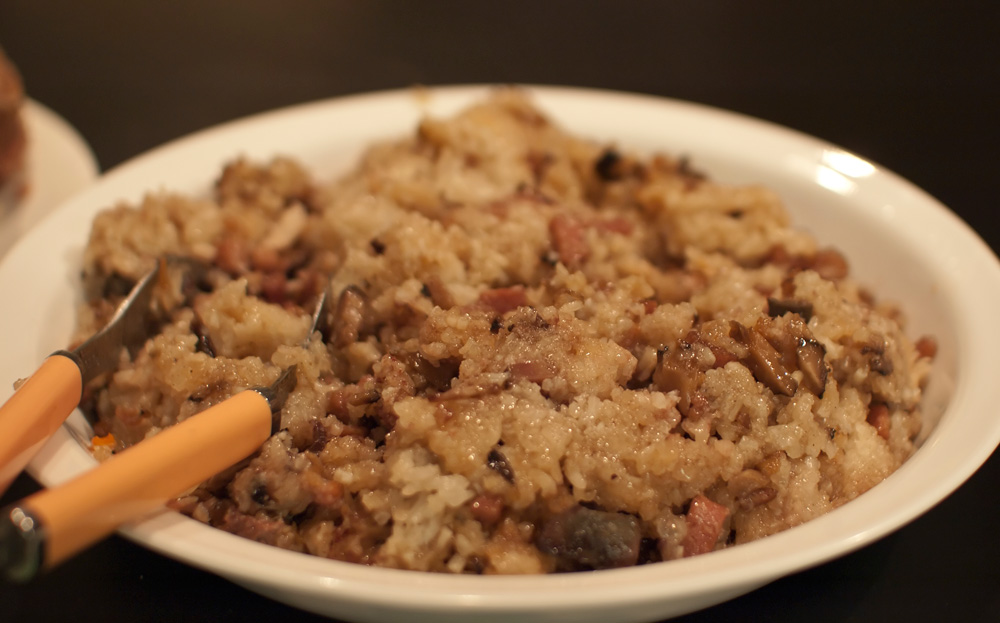 In the last post I mentioned how someone asked me if my family does a "traditional Thanksgiving", and coded in that question is the normalization of Anglo-American traditions. My family's Thanksgiving feels pretty traditional American to me, even though we don't have turkey or cranberry sauce, and we eat more rice than mashed potatoes.
So here's another peek at what tradition can look like: the revived day-after-Thanksgiving leftover party at my friend's house! We've been doing this for years, except for last year when my friend betrayed us all by spending Thanksgiving on the East Coast. Well, the West Coast won and she's moved back so that damn well better be the last time we miss this tradition (I'm looking meaningfully at you, friend!)
My friend is Taiwanese and her mom, who provided almost the entire feast below, is an AMAZING cook. The stars of this tradition:
Sticky rice turkey stuffing: if you've ever had this, do you not agree that it's GREAT?
Duck noodle soup
Rice porridge cooked in homemade turkey stock garnished with leftover turkey meat: so much umami how do they do it!
Taiwanese ham salad (this isn't actually called that. Hopefully my friend will volunteer the actual transliterated names in the comments section, hint hint.)
PIES! So many many pies, varies each year. My sister brought over her homemade pies from Thanksgiving. I usually bring a pie from House of Pies but didn't this year because I was told there would be plenty. Plus a homemade coffee cheesecake brought by another attendee of this tradition. It looked so professional and tasted so amazing that we all teased her that she bought it from a bakery and paid extra for them to put it in an unmarked cake box.
Sliced oranges (very Taiwanese after-dinner item)
And of course, ROCK BAND! (courtesy of another friend and her roadie boyfriend, who does the quickest drum setup I've seen)
This year we also had cheese biscuits (leftovers from my family's Thanksgiving) and Costco holiday cookies (so good, and it turns out that my friend likes the exact ones that I don't! The synergy, it is too awesome).
To the usual suspects who were missing this year, hope this serves as a lure for your appearance next year. You were missed!