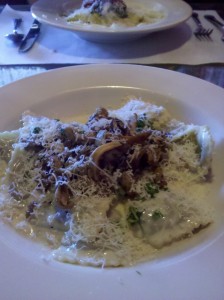 That dish you see to your left? It's famous. It's mushroom ravioli. But not just any mushroom ravioli. It's sparkle-vampire approved mushroom ravioli.
Last month, Jens and I spent two days in Western Washington state, home of Olympic National Park and the Hoh Rainforest. We took the ferry from Seattle, and so found ourselves in Port Angeles in time for an early dinner.
It quickly became apparent that this was not the Western Washington I remembered from the last time I visited 6 years ago. A cultural phenomenon had made its indelible mark on the area…its sparkly vampire mark.
Some thoughts, and two more pictures of vampire-approved food after the jump.