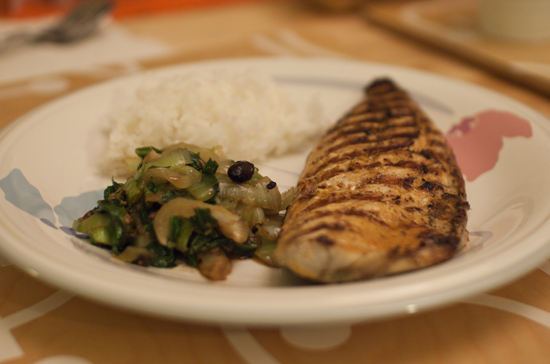 I'm generally reluctant to grill fish, especially without a fish basket, because of the sticking-falling-apart-burnt-outside-raw-inside aspect. But this is a pretty foolproof way to grill: the spicy mayo keeps it from sticking, and grilling fillets instead of whole fish makes it a lot easier to figure out when it's done. Start to finish this definitely takes 30 minutes or less. Unless you're having problems with your grill (which I did the night I grilled this. But it made me feel very modern independent woman to fix it.)
Jens made a black-bean bok choy stir fry to go along with it, and he made the spicy mayo. I basically stood over the grill getting fish smoke on me. Recipe after the jump.
Ingredients
2 mackerel fillets (bought from Mitsuwa, which has amazing quality fish; but we usually buy a whole mackerel from our local fish market and have them fillet it there.)
Spicy Mayo (adapted from Fish Without a Doubt): no measurements because it changes every time, just make it to taste
Mayonnaise
Thai Chili paste (the cookbook says Heinz chili sauce, which we never have on hand)
About equal amounts Tabasco and Worcestire
Fresh lemon juice
A dash (or more) of curry powder
Capers, chopped
Horseradish
Instructions
Dip a wad of paper towels in neutral vegetable oil and swab the grill grates. Preheat gas or charcoal grill on high.
Coat the fillets with the spicy mayo. Reserve a good amount of the mayo to eat with the cooked fish, and I also like to reserve a small amount to baste the fish while grilling, although this is more to give myself something to do rather than strictly necessary.
Swab the grill grates with the paper towels again. (Doing it twice really helps prevent sticking, which is so often a problem with fish.)
Place fillets skin-side down. Grill for 2 to 3 minutes depending on thickness. I usually put the cover down to retain heat. Â Flip the fillets. I use both tongs and a wide metal spatula to flip to avoid the fillets breaking. Grill on the other side for 1 1/2 – 2 1/2 minutes.
Plate (using clean utensils! I'm a little paranoid about food contamination). Serve with rice and extra spicy mayo on the side.