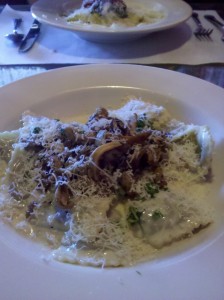 That dish you see to your left? It's famous. It's mushroom ravioli. But not just any mushroom ravioli. It's sparkle-vampire approved mushroom ravioli.
Last month, Jens and I spent two days in Western Washington state, home of Olympic National Park and the Hoh Rainforest. We took the ferry from Seattle, and so found ourselves in Port Angeles in time for an early dinner.
It quickly became apparent that this was not the Western Washington I remembered from the last time I visited 6 years ago. A cultural phenomenon had made its indelible mark on the area…its sparkly vampire mark.
Some thoughts, and two more pictures of vampire-approved food after the jump.

That's right: for those who didn't know this already, Western Washington is where Twilight takes place. And if you didn't know this upon entering the region, you will sure as hell know by the time you leave.
Bella Italia's claim to fame: it's where Edward and Bella had their first date. Jens didn't even try to conceal his disdain, but I was in the mood for Italian, so in we went.
I doubt that many of my readers will find themselves in rural Washington state, so I won't go into too much detail. The food was good, service was decent, and the prices were reasonable. We had the aforementioned mushroom ravioli, which included mushrooms from the Hoh Rainforest, so points for local ingredients. We also had a seafood lasagna that was very rich but pretty good. And to top it off, a very delicious, light (not dense) cheesecake.
Mostly I'm posting about this because I'm so amused at how much one blockbuster pop-culture phenomenon can change a region. Everywhere you looked, there was vampire or werewolf paraphernalia.  "Edward Cullen slept here!" "Werewolf tooth for sale!" "Book your Twilight tour here!"
I guess it's not too far different from the Sex and the City tours in New York. And at least after you're Twilight-ed out, there's the beautiful coastline to visit.